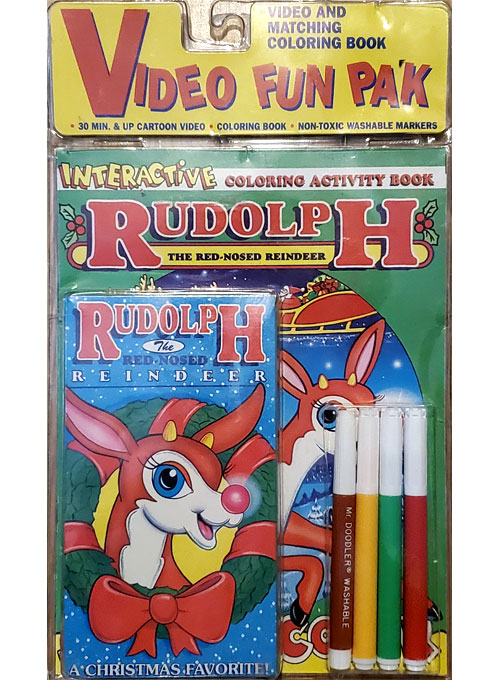 It's been a while since I wrote a feature article, but while I was scanning a recent acquisition – the Rudolph book from the UAV fun Pak series – I had an epiphany…what are the cartoons on the VHS tapes that come in these packs? This site focuses on coloring & activity books that are primarily based on cartoons, kid's shows, and so on, so…how did I not think about these sooner? I already had a few – the Popeye, Fat Albert, and Tennessee Tuxedo – and I knew those were legit episodes the books were based on. For some reason it never occurred to me to look for the others. Had I started sooner, I'd have probably found most, if not all of them. But now, finding unopened packs won't be an easy chore. Using what little info I have available I did some hunting today and found 3 more, bringing my total up to 7. Now I just have to find a VCR to borrow so I can watch the 3 I ordered and see what the cartoon is on the tape
Sadly, there is isn't much of anything online discussing these. Each book from the early 90s boasted it was :"Interactive", so the artwork was complimentary to the contents of the VHS, and each kit contained a few markers to color with, so it was very likely most that were bought were also used and then disposed of. I did see some of the VHS tapes, by themselves, also listed on ebay. But I have no idea of what the book looks like, yet. The cartoons on the tapes that were not featuring popular characters like Casper, Underdog, Mother Goose (with Little Audrey), are most likely public domain shorts or foreign produced versions. I'll know more when my new buys come in. And for the ones I have, the artwork was done by an Ethan Summers. Maybe I'll have to try and find him and see if he has any additional info on this series. I do hope I find more, though, as my curiosity is peaked. It also looks like the packaging was redesigned and some of the first wave was released again.
Here are the title pages for a few I have, which show the other titles available at the time. Below that is the back of the redesign package to show the limited release for that run.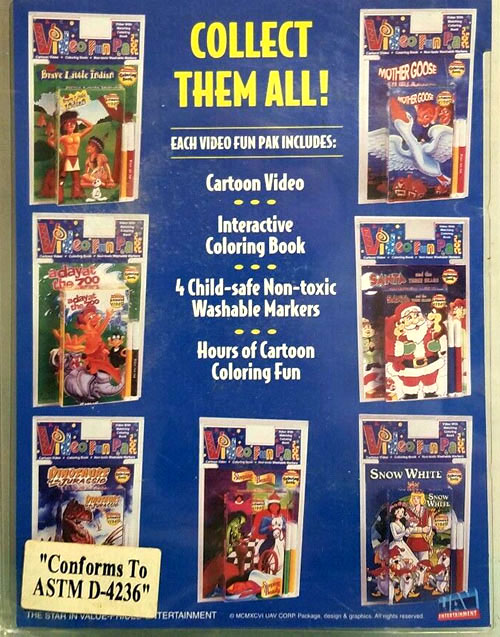 Brave Little Indian
Mother Goose (w/ Little Audrey)
A Day at the Zoo
Santa and the Three Bears
Dinosaurs in the Jurassic
Sleeping Beauty
Snow White
And the books I have in the archives so far are:
The original and redesign of the packaging: